YYYY-MM-DD - NEXT¶
Everything is a draft. Everyone can contribute.
Tip: Embed an image, e.g. from a YouTube video. This will be taken for social preview rendering.
[![GitLab Agent for Kubernetes Go Profiling](https://img.youtube.com/vi/XCqiMeeoaYQ/0.jpg)](https://www.youtube.com/watch?v=XCqiMeeoaYQ)

Future content¶
2022-10-xx
👋 Hey, lovely to see you again¶
Recamp of DevOps Camp Nuremberg: https://gitlab.com/gitlab-com/marketing/corporate_marketing/corporate-marketing/-/issues/6903
Open Source Automation Days, KCD Munich
☕ Hot Topics¶
eBPF Summit
The eBPF spectrum:
Networking & Security
DDoS mitigation
Application Performance Monitoring and Troubleshooting
Network load-balancing
Runtime Security
Application Tracing
Network Observability
Themes
eBPF for Networking
eBPF Programming and Internals
eBPF in the Real World
eBPF for Security
I'm interested in eBPF because
I work on the eBPF verifier
I want to understand the buzz
I need to understand the potential
I want to get involved
My tool/company uses eBPF
It's part of my team/customer conversation now
I'm a beekeper and got lost
I love Cilium
BPF in the Kernel: https://www.youtube.com/watch?v=0YqF45Kaapo&t=2520s https://twitter.com/dnsmichi/status/1575504285592428544
Rust & BPF same goal: Safe kernel programming Portable programs, stable interfaces Extending C language with assertions Run sleepable BPF programs as fibers in the Kernel 🔥
Day 1
https://www.youtube.com/watch?v=0YqF45Kaapo&lc=UgyQLWJUDnEs_YHKsrt4AaABAg
30:00 Kickoff, eBPF themes and use cases
42:00 The Future of eBPF in the Linux Kernel 
57:00 Q&A
1:02:02 Multi-cluster networking with Cilium at Form3 
1:13:37 Q&A
1:19:10 Large Scale Cloud Native Networking and Security with Cilium/eBPF
1:33:00 eBPF - The Capital Market's Perspective
1:59:50 Welcome back after the break
2:00:59 Cilium Standalone XDP L4 Load Balancer 
2:13:56 eBPF, a road to invisible network: S&P Global's Network Transformation Journey 
2:56:15 When you need to overcome your fear and build your own data-driven eBPF firewall 
3:12:32 Troubleshooting and healing networks with eBPF 
3:17:57 IO latency monitoring using eBPF
3:24:20 Improving Cilium's eBPF-based DSR performance by adding support for IP-in-IP 
3:29:40 The promise of eBPF for the edge 
3:44:23 Capture the Flag (CTF)
4:00:43 eBPF: Innovations in cloud native 
4:25:52 Q&A
4:30:34 eBPF and Cilium at Google 
4:34:40 Q&A
4:48:53 Closing 

Day 2
https://www.youtube.com/watch?v=a3AwA1VdohU
24:12 Welcome 
33:12 Buzzing across the EBPF Landscape and into the Hive
45:43 Q&A
51:50 All Your Queues Are Belong to Us: Debugging and Mitigating a Kernel Bug with eBPF 
1:07:02 Q&A
1:20:42 Securing systems with eBPF Linux Security Module 
1:35:55 Securing the IoT with eBPF and Rust
1:41:52 Container Security and Runtime Enforcement with Tetragon 
1:47:50 Using eBPF in system security 
1:53:38 Applied eBPF for cross platform security research 
2:09:39 Analysis of offensive capabailities of eBPF and implementation of a rootkit 
2:34:00 Capture the Flag (CTF)
2:49:08 Falco's Discovery of the Modern eBPF World
3:03:02 Metalens: Live Programming and Visualizing eBPF
3:21:18 Peeking into the eBPF verifier
3:26:55 Fighting and overcoming the complexity limit
3:33:58 Building an oomkill-exporter powered by eBPF
3:39:48 Porting eBPF CO-RE to arm64 Leads to Fix the Kernel
3:45:00 The power of a self-describing kernel - How BTF can benefit applications
4:02:13 Cgroup Iter: A step toward container-oriented observability
4:17:11 BTFGen: one Step Closer to Truly Portable eBPF Programs
4:33:22 XRP: In-Kernel Storage Functions with eBPF 
4:50:42 Closing 

Building and oomkill-exporter by eBPF https://twitter.com/kfekete/status/1575150590358798337
Insights how to combine Prometheus metrics and eBPF - a question that I ask at the end of the Kube Simplify workshop, and Confidence with Chaos talks.
🎯 Release speed-run¶
🛡️ The Sec in Ops in Dev¶
CI/CD Caching visualized https://about.gitlab.com/blog/2022/09/12/a-visual-guide-to-gitlab-ci-caching/
⛅ Cloud Native¶
Stop messing with Kubernetes Finalizers https://martinheinz.dev/blog/74
👁️ Observability¶
The friendly community at Kube Simplify creates amazing free learning resources as live workshops to learn Kubernetes. I was more than happy to provide a workshop on "Kubernetes Observability" ... and exceeded time and content with diving into OpenTelemetry and Chaos Engineering in 3.5 hours. Check out the slides with exercises and project with solutions.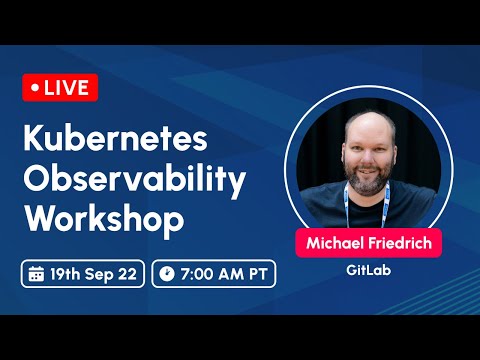 DevOps Camp recap - https://gitlab.com/gitlab-com/marketing/corporate_marketing/corporate-marketing/-/issues/6903#note_1113252144
https://github.com/foniod/redbpf
Container Days recordings:
🔍 The inner Dev¶
📈 Your next project could be ...¶
Add pets to your VS Code using this extension. Use cmd+shift+p on macOS to open the console, search for pet coding to start a new session, and repeat to e.g. throw a ball.
📚 Tools and tips for your daily use¶
🔖 Book'mark¶
🎥 Events and CFPs¶
👋 CFPs due soon
Looking for more CfPs? Try CFP Land.
🎤 Shoutouts¶
🌐
Thanks for reading! If you are viewing the website archive, make sure to subscribe to stay in the loop!
See you next month - let me know what you think on Twitter or LinkedIn.
Cheers,
Michael
PS: If you want to share items for the next newsletter, please check out the contributing guide - tag me in tweet replies or send me a DM. Thanks!